Naples Lakes Country Club Earns Top International Biodiversity Award from Audubon - 2018
Naples, FL – August 2018 / Newsmaker Alert / Naples Lakes Country Club was recently named the international winner of Audubon International's worldwide Bioblitz competition. NLCC received the Biodiversity Award for the greatest number of species counted, competing with numerous golf course communities from around the world.
Volunteers at this year's event spotted, identified, and listed a total of 496 species including the Federally-threatened Wood Stork, and the Little Blue and Tricolored Herons, both state-threatened species in Florida. The community has participated in Audubon International's BioBlitz each year since the program's inception in 2015.
"Naples Lakes Country Club is extremely honored to win the Biodiversity Award for the 2018 BioBlitz," said Bryan Roe, of Naples Lakes Country Club (NaplesLakesFL.com). "Our residents truly look forward to participating in the annual event and coming together to enjoy the natural habitat that surrounds our community. Our course and community have experienced a remarkable recovery following the devastating effects of Hurricane Irma last September and the amount of species that remained in the area following the storm speaks volumes to the environmentally friendly atmosphere we foster."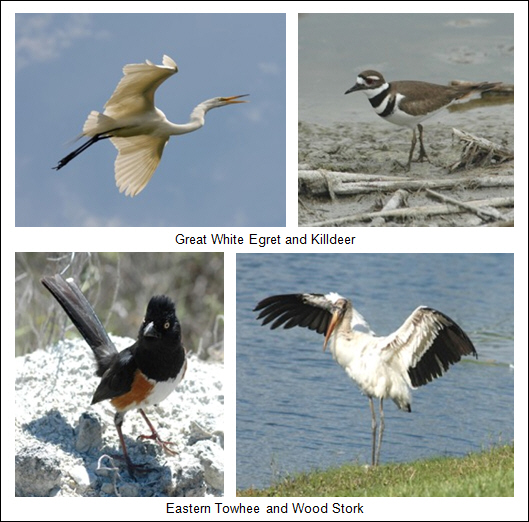 Audubon International's BioBlitz 2018 recorded over 2,000 unique species of animals, plants, fungi, and insects living on golf courses. A team of enthusiastic Naples Lakes Country Club volunteers, ranging from school groups to birding clubs to professional naturalists, gathered at local events in April and May to discover and document the species inhabiting important green spaces. This involved walking the property and the Arnold Palmer Signature Golf Course where members tracked and recorded the 496 species. This year's program was sponsored by the United States Golf Association.
BioBlitz is a species counting competition by Audubon International designed to create awareness among golfers and the community about the environmental value of the habitats supported by golf courses. The golf courses that participate are part of an annual international golf movement that brings people together to take a closer look at the habitats provided on golf courses and to count and document the wildlife on their property such as plants, animals, fungi and insects.
The tracking process lays the groundwork for Audubon's recertification of the property, a process that must be completed every three years. With more than 200-acres of protected nature preserves and lakes, NLCC has been certified as an Audubon Cooperative Sanctuary since 2001 and is one of only 114 in Florida.
Located at 4784 Naples Lakes Boulevard, Naples Lakes Country Club is a private 490-acre gated golf course and country club community where full membership is included with every residence. For more information, visit NaplesLakesFL.com. Twitter | Facebook.
______________________________________________________________________________________
Naples Lakes Country Club Recognized for Environmental Excellence - 2017
NAPLES, FL – Naples Lakes Country Club has retained its designation as a "Certified Audubon Cooperative Sanctuary" through the Audubon Cooperative Sanctuary Program for Golf Courses, an Audubon International program.
The golf course was originally designated as a Certified Audubon Cooperative Sanctuary in 2001 and is one of 114 in Florida and 889 courses in the world to receive this honor. Courses from the United States, Africa, Australia, Central America, Europe, South America, and Southeast Asia have also achieved certification in the program.
Participation is designated to help course personnel plan, organize, implement and document a comprehensive environment management program and receive recognition for their efforts. To reach certification, a course must demonstrate that they are maintaining a high degree of environmental quality in a number of areas including: Environmental Planning, Wildlife and Habitat Management, Outreach and Education, Chemical Use Reduction and Safety, Water Conservation, and Water Quality Management.
"Naples Lakes Country Club has shown a strong commitment to its environmental program. They are to be commended for their efforts to provide a sanctuary for wildlife on the golf course property," said Doug Bechtel, Associate Director of Environmental Programs at Audubon International.
"After designation, courses go through a recertification process every two years. This year the recertification required a visit by a local community representative. Andrea Naccarato, education staff member at the Naples Botanical Garden, was given a tour of the course and sent her observations to Audubon International.
"Naples Lakes Country Club's golf course feels like a quiet retreat thanks to extensive preserve buffers composed of a mix of native habitats," said Naccarato. "These habitats, along with planted littoral zones, increase the likelihood of spying any of the 144 wildlife species documented there."
"We see the site visit as an important component of a course's re-certification," stated Bechtel. "It provides an objective verification of some of the more visible aspects of the course's environmental management activities. In addition, it offers an opportunity for golf course representatives to share publicly some of the voluntary actions they have taken to protect and sustain the land, water, wildlife, and natural resources around them."
About Audubon International
Audubon International is a not-for-profit 501(c)(3) environmental education organization dedicated to providing people with the education and assistance they need to practice responsible management of land, water, wildlife and other natural resources. To meet this mission, the organization provides training, services, and a set of award-winning environmental education and certification programs for individuals, organizations, properties, new developments, and entire communities.
For more information, contact Audubon International at 120 Defreest Drive, Troy, NY 12180, (518) 767-9051, email at: [email protected], or visit the website at: www.auduboninternational.org.
Click Here to View Photo Gallery.
Florida's wildlife and human population are encountering each other more often than ever before. As humans develop more open space and wildlife habitat is reduced and fragmented, encounters between humans and wildlife become more common. For most people, observing wildlife is a thrilling experience, but when an animal causes damage or attempts to share your living space, that thrill can turn to irritation or fear.
Just like us, birds and other animals are doing their best to make a living and raise their young. Developing an appreciation and understanding of your wild neighbors can help you learn to accept them and live in harmony with them without resorting to extreme measures. Tips for keeping the awe in your wildlife experience.
Feeding wildlife accustoms them to humans and is a certain death sentence for bears, alligators and other species.
Making simple accommodations will often solve the problem of marauding raccoons and other critters. Remove the free meal attractant by feeding pets indoors, installing baffles on bird feeder poles and fastening trash cans lids with rubber straps.
Additional modifications, like constructing a bear-resistant garbage can caddy and securing compost piles, gardens and beehives behind bear-resistant electric fencing, will discourage black bears.
Bringing pets inside at night will keep them safe from hungry predators.
Cover possible entryways with hardware cloth to exclude squirrels, bats and other animals scouting out your home for a safe place to raise young.
Although relocation is sometimes necessary, trapping and relocating wildlife is a last resort and only warranted if all other measures have failed and an animal becomes a threat. Removing one animal may only serve to open up territory for others to move in. Rather than getting your feathers ruffled, make simple accommodations to avoid wildlife conflicts then relax and enjoy the wonders of wildlife in your own backyard. For more wild life information visit: www.myfwc.
Click the Links Below for Information on Living with Local Wildlife:
Bears
Other Wildlife